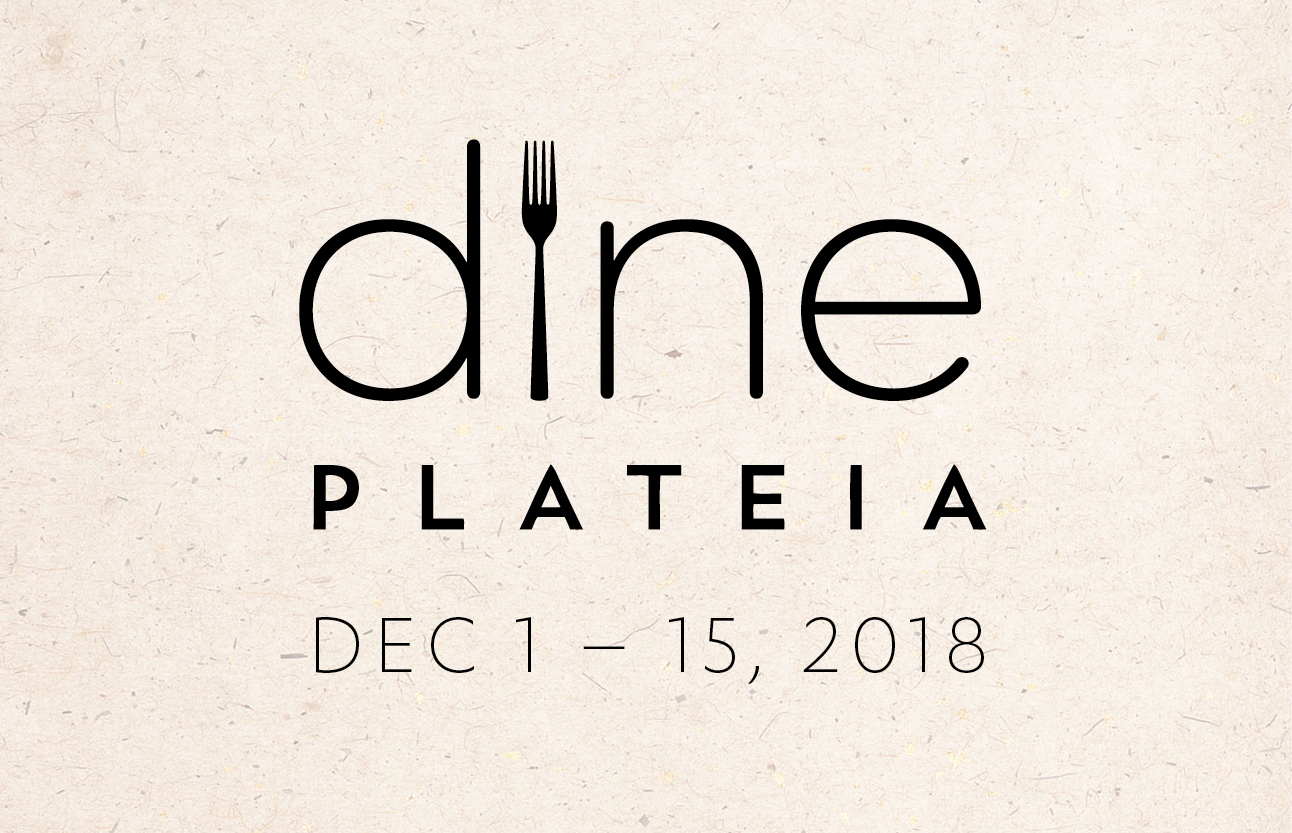 December 1 – December 15, 2018
Offered Daily Except Sundays.
3-Course Lunch $25, 3-Course Dinner $35
Reservations required. Excludes alcohol.
Must Present BruinCard.
As a token of our appreciation to all of our UCLA staff members, we invite you to join us for dinePLATEIA at the UCLA Luskin Conference Center this December. dinePLATEIA is a 15-day dining event where UCLA staff can enjoy specially priced 3-course pre-fixe lunch or dinner menus, showcasing the best of Plateia's Mediterranean-inspired, California-fresh cuisine.
This not-to-miss dining experience in the heart of the UCLA campus is a great opportunity to get together with fellow coworkers, family and friends during this holiday season. Relax in the cozy ambiance of our dining room or dine alfresco on our expansive outdoor patio under heritage olive trees. You can see our menus below, or download our lunch menu and dinner menu, as well.
Lunch
(Choose one selection from each course for $25)
Small Plates
Greek Village Salad*
cucumber, tomatoes, kalamata olives, marinated feta, lemon-oregano vinaigrette
Tricolore
radicchio, frisee, arugula, red endive, parmesan, pine nuts, lemon-anchovy vinaigrette, croutons
Mains
"The Burger"
8 oz. grass fed organic beef, fontina, tomato, caramelized onion, candied pancetta, arugula, basil aioli, toasted brioche bun, parmesan fries
Rustic Grilled Cheese
smoked white cheddar, aged provolone, fontina, balsamic caramelized onions, fresh thyme, toasted artisinal bread, parmesan fries
Avocado Chicken Sandwich
fontina, avocado, applewood smoked bacon, tomato, arugula, basil aioli, griddled sourdough bread, parmesan fries
Steelhead Salmon
garlic crisps, tomato-arugula salad, bruléed lemon
Seasonal Vegetarian Plate
please inquire with your server
Desserts
Gelato Scoop
choice of pumpkin cheesecake, brown butter pecan, pistachio nut or malted chocolate chip
Beverages (excluding alcohol)
Soda and Iced Tea
Coffee and Hot Tea
Dinner
(Choose one selection from each course for $25)
Small Plates
Soup of the Moment
Market Gem Lettuce Salad
shaved vegetables, Terre Bormane red wine vinaigrette, fine herbs
Mains
Tagliatelle Bolognese
beef and pork sausage, fennel seed, shaved reggiano, Italian parsley
Pan Seared Steelhead Salmon
chantrelle mushrooms, heirloom carrots, meyer lemon beurre blanc
Brick-Pressed Pasturebird® Chicken
delicata squash, potato confit, marinated wild mushroom, chicken jus
Seasonal Vegetarian Plate
please inquire with your server
Desserts
Chocolate Torte
thin layers of chocolate cake filled with milk chocolate cream and sea salt caramel, red plum compote, whipped turmeric white chocolate ganache, meringue sticks
Gelato Scoop
choice of pumpkin cheesecake, brown butter pecan, pistachio nut or malted chocolate chip
Beverages (excluding alcohol)
Soda and Iced Tea
Coffee and Hot Tea